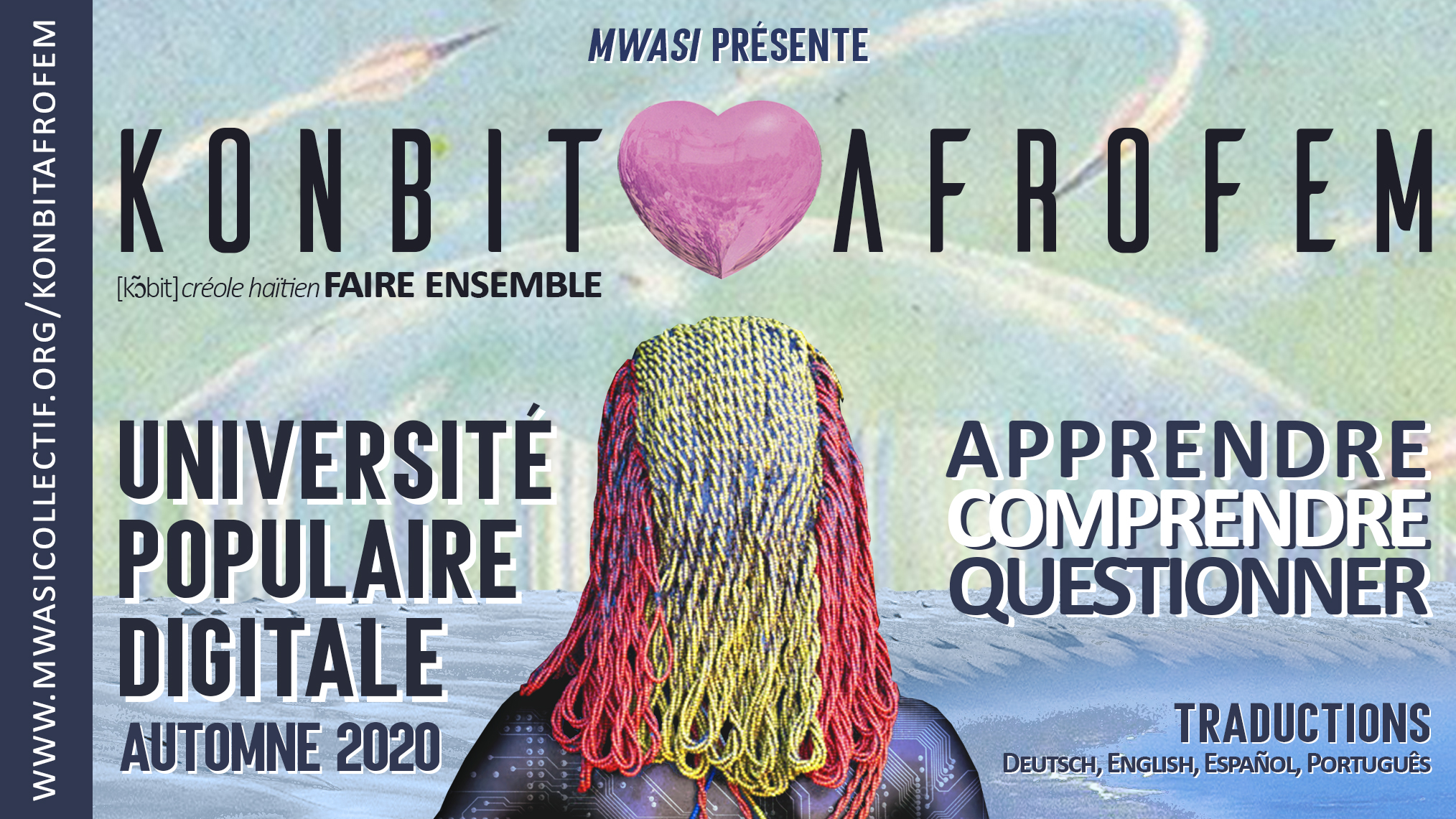 More than ever we need a revolutionary and ambitious Afrofeminism. And to do this we need to constantly build our movement and strengthen it through activist practice but also through production and theoretical training.
Konbit Afrofem, our 10-week online popular university with fifteen speakers, to learn, to understand and to question. The objective is to share conceptual, activist and ideological tools for the fight against white supremacy, hetero-patriarchy and capitalism.
Each session will consist of a presentation or discussion (when there are two speakers) led by a member of Mwasi. This will be followed by 35 minutes of Q&A.
All sessions will be interpreted live in French sign language.
At the end of each month we will release on our YouTube channel the videos of the month, with subtitles in French, English, Spanish, Portuguese and German.
Programmes and registration
All courses are from 6.30 pm to 8.30 pm (Paris time).
02/09/2020 | The main theories of Black feminism| Jade Almeida
09/09/2020 | Asylum and immigration issues in Europe | Yos and Francis Monterola
Iki Yos Piña : Artist and anti-racist activist across borders
Francis Monterola : Afro-Venezuelan queer activist,
16/09/2020 | Black Women Facing Racism in the Medical Sector |Selemani Djemba
Afrofeminist activist, blogger, columnist and student in the medical field. Apprentice librarian in my spare time.
23/09/2020 | Peace in the household: domestic workers as an adjustment variable within the couple | Rose Myrlie Joseph
Doctor of Sociology and Gender Studies, teacher.
30/09/2020 | History of Afrofeminism in Brazil | Tauana GOMES SILVA
Doctor in History in University of Rennes 2 in joint supervision with the Universidade Federal de Santa Catarina (Brazil).
07/10/2020 | Organisation against police violence | Ramata Dieng and Marcia Rigg
Ramata Dieng: Activist against police violence, founder of the VV collective which brings together families who are victims of police crimes.  She is the Sister of Lamine, who died suffocated by police officers in Paris in 2007.
Marcia Rigg, is a British activist against police violence, after her brother Sean Rigg died in the hands of the police in 2008 in London.
14/10/2020 | Black women at work, between isolation and collective emancipation: (post)colonial perspectives | Carmen Diop & Rose Ndengue
Carmen Diop leads a multidisciplinary reflection and research work in several areas. Within the framework of her thesis in education sciences, she starts from her experience and builds a generality by using the contributions of standpoint theory and intersectionality to study the subjectivity and trajectories of black women graduates at work. In doing so, she explores the complexity of the hidden dimensions of their social experience. She is a former journalist in the French-speaking pan-African press, she holds a Master's degree in research in the psychology of work and transitions, a Master's degree in political philosophy and a Bachelor's degree in social anthropology and comparative sociology.
Rose Ndengue Teacher-researcher in political science and sociology history
21/10/2020 | Afrofeminist position against prison | Nabintou Mendy
She was part of several organizations, including a few months with Lutte Ouvrière (and a few years with Genepi and Mwasi.
28/10/2020 | Intra-community organization against sexual and domestic violence | Marieme Lo
She is a Wolofopeulh woman born in Paris, she grew up in the Paris region, her adult life is made up of back and forth trips between social work and other seasonal jobs. She is decolonial feminist who went to live in the countryside and she experiments with different forms of collective action. She chooses to work on emotional and sexual health, choosing to train in Family Council and art to explore the black imaginary past, present and future.
4/11/2020 | Thinking Afrofeminism and Afrofuturism against neurocapitalism | Peggy Pierrot
Peggy Pierrot lives and works in Brussels.
She works mainly with various organizations for education or research.
Her favourite tools are human sciences and free software.
As there are "deep links between gesture and speech, between expressible thought and the creative activity of the hand "1, she currently works at the Ecole de Recherche Graphique (ERG) both as a technical and logistical officer and as a teacher in Media and Communication Theory. She is also involved in the master's programme Narrative and Experimentation – Speculative Narration.
She gives lectures and workshops on Afro-Atlantic cultures and literature, science fiction, media and technology and has an active radio practice.